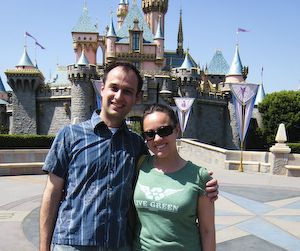 Disneyland was so much fun! We were there for three days, and I don't think that was enough. Mark and I toured California Adventure park on Day 1, then Disneyland for two full days.
My favorite part was that everyone there is so happy. The rides were amazing - even the kid ones for Pinochio, Pirates of the Carribean, Peter Pan and others. The look on Mark's face when I was experiencing these rides for the first time was really funny. He was just so happy to be there!
It's a Small World was funny because they even had a Canadian Mountie in it! It was so elaborate to see all of the dancing dolls. We also went on Dumbo, the huge pirate ship, the Haunted Mansion, Alice in Wonderland, and Big Thunder Mountain.
The teacups were a blast! Mark and I took great photos of each other while spinning around as fast as we can.
Favorite Ride: Pirates of the Carribean (Funny, and a longer ride)
Worst Ride: Tower of Terror (dropping elevator - no thanks. Won't do that again!)
Coolest thing: Seeing Lightning McQueen!