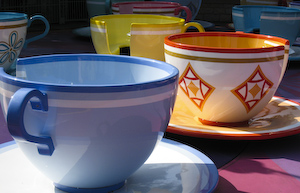 As Jessica said in her blog, I want to go back to Disneyland! We both had such a great time there. I'm not sure what makes it so special for me... I do know that one thing that holds true for me now that I'm a part of the rat race is when you are there, you don't have any other care in the world. The outside world no longer matters. The only thing that matters while you are there is figuring out what ride you should go on next, or where the best place to sit and people watch is. Ahhh.
We spent three days in the resort area -- Sunday, June 10th to Tuesday, June 12th. The first day we went to California Adventure, and the next two days we went to Disneyland itself. We saved the best for last :-)
Seriously though, California Adventure seems to be getting better! And I will say with pride that we actually liked the Tortilla making exhibit! Yeah is it not a ride, but it helps add a nice bit of variety to the park. Speaking of rides, the park definitely needs more of them. One can only sit through so many films. But with that said, one of my favorite parts of Soarin' Over California is the part where the skier falls down. Boof! You could hear the entire theater laughing about it.
Our first day in Disneyland itself was Monday, June 11. It turned out to be the day that the Finding Nemo submarine ride opened for the first time! The park had over 59,000 people in it! No wonder it was so crowded while we were there. Usually Disneyland does not see those kind of crowds except on special holidays, like New Years Eve. The lines for Finding Nemo were somewhere around three hours. Since we don't make it to the parks very often, we didn't wait in the line. The reports that you heard around the park is that the ride was awesome! Next time....
By the time we'd finished our three day visit, we didn't want to go home. We still did have several things to do next time! It was so much fun to go with Jessica on her first visit. We were even able to get her a button that said "My 1st Visit". She loved it! To see her having such a good time and staring wide-eyed at the various rides was bliss. When you go with someone for their first time, it helps you enjoy the experience that much more.
I'm not sure when our next visit there will be. It hopefully won't be years and years and years from now. We were lucky in that we were able to tack this trip on to a visit to Seattle. We found $99 one-way tickets, so were able to do the trip without spending huge sums of money. Bye Disneyland! We'll be back as soon as we can!
And for all you people still reading, take a look at our pictures of Disneyland.